Liverpool Celebrant: Lorraine Hull
For perfectly bespoke ceremonies brought to you from the heart of Liverpool...
Accredited by Humanists UK
Frequently Asked Questions...
If we have our Wedding with you will it look, sound and feel like a 'real' one?
---
It is a real Wedding! It is a celebration of your marriage. An opportunity to share one of the most special moments of your life, in the way that you want to, a day to create wonderful, lasting, memories. You won't be completing the marriage registration, that will need to be done separately, and it is important that this legal process is completed (see my other Frequently asked question "Do you do the legal part?" for more information on this)
At your Wedding, if you want to, you can walk down the aisle, say personal vows, exchange wedding rings and sign a commemorative certificate. If you want to, you can also add other touches to make your ceremony completely personal to you. I can help with ideas and suggestions, should you wish me to.
Your Wedding can be as traditional, quirky, romantic, simple, personalised, humorous, or formal, as you want it to be. If you want to include other people, symbolic elements or cultural traditions, that is obviously fine too. It is your day and I will help to ensure that it happens your way.
Every Wedding is unique, just as every person and relationship is unique. Not only will it be a real Wedding, it will be a perfect Wedding, designed and written just for you.
I think that my favourite part of any wedding ceremony is the reaction that I see when someone hears their partner's
personal wedding vows (don't worry, I can help with creating your vows if you want me to).
These two pictures, from two different weddings, were taken during the vows and show happy tears and head right back hilarity! (there were also poignant moments and happy tears in the 'laughing out loud' wedding - just not during this part of the groom's vows)
---
Is there anywhere that we can't have our ceremony?
---
The only places that I cannot conduct a ceremony are a Register Office or a place of worship.
If I am conducting your celebration, it can be held in a Register Office licensed venue (also known as Approved Premises) - but you are not limited to these venues.
I will consider conducting your ceremony wherever you want me to, including your home or garden.
I am based in Liverpool and I am most often asked to conduct ceremonies in North West England and North Wales, but I would be delighted to discuss conducting your ceremony anywhere in the world.
---
Are there set times for you to conduct our ceremony?
---
With me, you can have the personalised ceremony that you want, where you want it and when you want it.
I don't have 'time-slots', so I don't slot you in!
I aim to only conduct one Wedding, Civil Partnership, Renewal of Vows or Naming ceremony, on any particular day so I will fit in with the time that you want - rather than tell you when you can hold your ceremony.
While this gives my couples, and families, complete flexibility and 100% of my attention, on their special day, it does mean that popular dates get booked up in advance.
---
Can we have our ceremony outside?
---
Absolutely! I love outside ceremonies. I have conducted weddings in gardens at the family home and at Airbnb rentals, on farms, in woods and on beaches, as well as in outside spaces at (more) traditional venues. I have several sizes of portable speaker and a selection of microphones - so your guests will not miss a word of your ceremony. The logistics of outside cermonies can be a little more complicated - but I have lots of experience and, as with everything else, I will support you every step of the way.
---
How do I/we book you?
---
If you have a date in mind, the first step would be to get in touch to check my availability. Please fill in one of the 'Contact Me' forms on my website, or email lorraine@liverpoolcelebrant.co.uk or call/message me on 07449323988
I aim to only conduct one Wedding, Naming Ceremony or Renewal of Vows per day. This means that, if I am free, you can have any time that suits you, but it also means that the most popular dates often get booked up quite some time in advance.
I usually provisionally hold a date for two weeks, free of charge and without obligation. During that time, I will do my best to meet, or at least speak, with you.
If meeting in person is not possible, we can use Skype/WhatsApp/FaceTime (or any other type of videocall) - or simply speak on the telephone. When we speak, we can discuss your plans and ideas and I will be able to let you know my fee.
You can find out a little bit more about me here but I would encourage you to ask as many questions as you wish, as I want you to feel assured that I am the right Celebrant for you.
If you decide to go ahead, with me as your Celebrant, I will send you an invoice and ask for a booking fee of £200, to secure your date. This is deducted from your total fee, the balance is due two months before your ceremony.
I will email you an invoice with my account details for a bank transfer, or you can click the 'Pay by Card' link to pay using a debit or credit card. If you prefer to pay by cash or cheque, just let me know.
---
What happens after I/we have booked you?
---
I will keep in contact with you and, together, we will design the perfect ceremony for YOU.
You may contact me, about your ceremony, as often as you want to and I will do my very best to respond as promptly as possible.
You will receive access to a private online resource page, including my exclusive compilations of readings, vows, and lots of ideas for enhancing your ceremony and ideas for writing personal vows and promises.
I will ask you lots of questions about what the commitment that you are making means to you; what makes you 'tick', what made you 'click' and, if you would like to tell me, 'what gets on your wick' (not that I'm suggesting anything does!). You don't have to answer all (or any) of my questions, but the more that you tell me, the more I get to know you and the more personalised I can make your ceremony.
I will create a draft outline, for your approval.
Once you have agreed the outline, I will write your script, usually about a month before your ceremony.
Some people prefer to see all or part of the script, in advance, others like to wait until the day itself - it is entirely up to you.
If you have requested a run through, prior to the ceremony, it is usually one or two weeks before - or whenever suits both of us. It isn't a 'word by word' rehearsal - although we can do that, if that is what you want.
On the day itself, I will usually arrive at your venue between about an hour before the start time. I will work with your venue, and other suppliers, to ensure that your ceremony goes as smoothly as possible.
---
How much is your fee?
---
Just as I don't have 'one script for all', I don't have 'one price for all' either. It will depend on a number of factors, including the type of ceremony, whether you would like a rehearsal and where the ceremony will take place.
To give you an indication, for a totally bespoke wedding or civil partnership ceremony, in Liverpool City Centre (in 2021), my fee is only £495 (interest-free payment plans are available, please ask for details).
Please get in touch, tell me your plans, and I will let you know exactly how much my fee would be. You can book up to three years ahead and, once you have paid your booking fee, the total fee will not increase - for any reason.
If you want a bespoke ceremony written just for you, my professional and dedicated service is an investment that you will not regret. Your whole ceremony will be personal to you, from start to finish. It will be special and memorable - for all the right reasons.
My fee reflects many years of experience, my award-winning expertise, my commitment to best practice and continuing my professional development.
And, of course, I don't just turn up on the day of your ceremony with a generic script and a packet of Post-It notes! My fee represents the many hours of work that I would put into making sure that you, and your guests, remember your ceremony as the best wedding that you, and they, have ever been to - EVER!
I believe that the wedding ceremony is the most important part of anyone's wedding day - without the ceremony it is just a party!
I have the utmost respect for the Registration Service, but after many years working at a Register Office, I know that the registrars have to use very generic scripts, with prescribed wording, lots of restrictions, and very limited opportunity for personalisation.
I appreciate that would not be a problem for some people and they would be absolutely fine with a routine registrars ceremony, which is exactly the same as everyone else's - apart from the names.
I honestly do understand that, for quite a lot of people, that is good enough.
But it doesn't have to be that way. Nobody's wedding should just be 'good enough'; everyone should feel that their wedding was the best that it could possibly be - or even better!
I am accredited by Humanists UK and a member of the Celebrants Collective, a professional organisation that aims to support Celebrants to be the best that they can possibly be; I am also fully insured and registered with HMRC and last, but by no means least, although you can't put a price on it, I just wanted to mention (in case you didn't already know): I REALLY love being a Celebrant!
---
Can we write our own vows?
---
Yes of course.
This is a very special way of making your ceremony unique.
You may wish to include quotes from favourite books, lyrics from special songs or lines from films that you have seen together.
You may simply want to say what is in your heart.
You may want to make your partner laugh (you will probably make them cry 'happy tears' whatever you say or do!)
If you wish, we can use symbolic elements as well as, or instead of, words.
And if you want to sing (or sign) your wedding vows, have bilingual vows, or ask your guests to suggest vows for you? Well, of course, none of those things are a problem either.
If you are unsure where to start, I can provide some suggestions of vows and promises for you to use or adapt.
If you prefer to use traditional vows or promises, or if you would like me to create something personal for you, that is also absolutely fine.
You can say what you really want to say, in the way that you want to say it - or not say anything at all! I will help you to have the ceremony that suits you.
This bride only wanted to say two words: "I Do". So that is exactly what she did...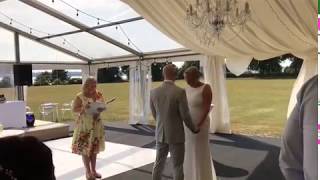 If you would like a copy of my free guide to Stress Free Wedding Vows please click here.
---
What are your terms of business?
---
Enquiry
When you make your enquiry, if your preferred date is available, you may request a provisional hold, on that date, for 14 days, pending receipt of your booking fee.
Consultation
Between enquiry and confirmation, Lorraine will aim to meet, or speak, with you for a free of charge, no obligation, consultation. This may take place in person, by video call (FaceTime, Skype, WhatsApp, Messenger, etc), or on the telephone. The ceremony fee will be advised, and fixed, following your consultation.
Confirmation
A non-refundable £200 booking fee is required to secure the date of your ceremony. Ceremonies may be booked up to three years in advance.
Payment of Balance
The booking fee is deducted from your total fee. Payment of the outstanding balance is due two months before the ceremony. If the booking is made within two months of the ceremony, payment in full is required at time of booking.
Enhancements
If you would like Lorraine to supply items to be used within your ceremony (e.g. Sand blending, Handfasting, Unity and/or Memorial candles, etc.) please discuss at time of consultation, or at any point afterwards. There may be a small fee for items supplied, you are, of course, free to source the items yourself.
Legality of Ceremonies
Please be aware that the celebration ceremonies performed have no legal standing. In the case of wedding ceremonies, the marriage legalities have to take place separately.
Commemorative Certificates
You will have the option of signing a commemorative certificate during your ceremony. The certificate is intended to be a memento of the occasion and has no legal status.
Use of Imagery
Please advise if you would prefer not to have any of your ceremony photographs used in print, or electronically on social media. Images will only be used in a positive way to illustrate and promote the services provided by Lorraine Hull, trading as 'Liverpool Celebrant'.
Confidentiality
Your personal information will always be held securely and respected; your full name, email address, telephone number or home address will never shared with third parties.
Cancellation Policy
If you cancel more than 14 days, after booking, your booking fee is not refundable. In addition, you will be invoiced a cancellation fee as follows:
for a cancellation within three months of your ceremony: £50

for a cancellation within two months of your ceremony: the remaining balance
Postponement Policy
If you need to reschedule your ceremony any fees already paid are transferable to another available date. Please note, I will endeavour to support you in any way that I can; there is no additional charge for a change in date; however, there may be a supplement (or reduction) to reflect my transport costs, if the venue changes.
About Liverpool Celebrant
Lorraine Hull (trading as 'Liverpool Celebrant') is professionally trained, accredited to conduct non-religious ceremonies by Humanists U.K., holds comprehensive Public Liability and Professional Indemnity insurance policies, adheres to a strict code of conduct and is committed continuing her own professional development and supporting others.
---
Are there any restrictions on what we can include in our ceremony?
---
Acts of religious worship and the wording required, by law, to contract a legal marriage is the only element that cannot be used in a wedding celebration ceremony.
If you want a cocktail ceremony, flower nans, ring-bearing dogs, marryoke and lots of laughter, that is fine. Or, if you prefer something more sedate, formal, and traditional, we can do that. Your ceremony will be all about you and what you want.
If you would like to celebrate your culture or include symbolic elements, that is, of course, absolutely OK.
I will always listen to everything that you tell me about what you would like to include (and not include!) so that you can have the ceremony that is perfect for you.
Contact me to discuss your ideas, or for further clarification, if required.
---
Do you do the legal part?
---
No. In England and Wales, the legal part has to be done in the presence of a registrar. This is to enable a permanent record to be made for the General Register Office (by you and your witnesses signing the register, or schedule)
This is a simple two part process:
You need to "give notice" at your local register office, between one and twleve months before you wish to register your marriage/Civil Partnership.
Providing there are no valid objections you can go ahead and have the legal ceremony. This can be extremely low key with just you and two witnesses attending the register office.
You do not need to get dressed up or exchange rings (although, of course, you can do either, or both, if you wish to).
For a Civil Partnership, you do not even need to speak at the register office, you and your witnesses simply sign the schedule.
Many couples, getting married or entering into a Civil Partnership, consider this to simply be "doing the paperwork". It is completing the legal requirements that allow them to have the 'Big Day' that they want.
Others choose to enjoy this event as a special occasion, in itself, and afterwards they celebrate with the special people that they have chosen to be their witnesses. Couples have told me that they enjoyed having this extra element to their celebrations and valued having a quieter time, before the 'Big Day', with their witnesses (often their parents, siblings, or closest friends - sometime two random strangers that they have bumped into on the day!).
You need to attend the register office in the area that you live to give notice. The notice fee is £35 each.
In Liverpool Register Office, the simplest legal marriage or Civil Partnership registration ceremonies cost £57 (including one official copy of your certificate) and are held before 11am, Monday to Thursday.
You can choose any register office, in England or Wales, for the registration ceremony. Other register offices may charge different fees and hold their ceremonies on different days, and at different times.
If you have been married abroad, in a legally recognised ceremony, it is unlikely that you will have to have any contact with the register office.
Contact me for further clarification, if required.
---
What exactly is the legal part?
---
If you are registering your marriage or Civil Partnetship in England or Wales, you will need to complete two stages of legal formalities and fees will be payable to the local authority (or possibly more than one local authority) for this.
You will each need pay the Notice fee, and give Notice, at a register office - usually in the Registration District in which you live.
You will also have to pay a registration fee to the register office where you are going to complete the legalities.
Please refer to Government advice regarding giving Notice here.
Contact me for further clarification, if required.
---
What are Approved Venues or Premises?
---
In England and Wales, by law, civil marriages and Civil Partnerships may only take place in premises licensed for marriage and Civil Partnerships.
These can include the Register Office and hotels, stately homes, football grounds or historic buildings licensed by the Local Authority.
These locations are known as Approved Premises or Venues.
As your Celebrant led ceremony is not subject to legislation, you are not restricted to these premises.
Contact me for further clarification, if required.
---
What is your Privacy Policy?
---
This Privacy Policy describes how and when I collect, use, and share information when you contact me, book a Liverpool Celebrant ceremony or purchase an item from Liverpool Celebrant.
Your personal data is safe and secure with Liverpool Celebrant. We do not collect email addresses, or other contact details, and forward them to third parties, that would be illegal – and immoral!
If you contact me with an enquiry, and do not subsequently book my Celebrant services, or purchase an item, I will delete your information after one month.
Information I Collect
To create and conduct your ceremony, or fulfil your order for ceremony enhancement items (such as sand blending sets or bespoke handfasting cords), you must provide me with certain information, such as your name and email address, and in order to forward purchased items, to you, I may need a postal address.
For some kinds of ceremonies, I may also ask for other information, such as significant dates and events. Although they are often helpful within the storytelling, I can craft ceremonies without this information and you are not obliged to provide these details, or any other information that you do not wish to disclose.
Why I Need Your Information and How I Use It
I rely on a number of legal bases to collect, use, and share your information, including:
as needed to provide my services, such as when I use your information to create and conduct your ceremony, fulfil your order for ceremony enhancement items, to settle disputes, or to provide customer support;
if necessary to comply with a legal obligation, such as retaining information about your ceremony fees and purchases, as required by the HMRC; and
as necessary for the purpose of my legitimate interests, if those legitimate interests are not overridden by your rights or interests, such as: providing and improving my services.
Information Sharing and Disclosure
Information about my customers is important to my business. I share your personal information for very limited reasons and in limited circumstances, as follows:
Compliance with laws. I may collect, use, retain, and share your information if I have a good faith belief that it is reasonably necessary to:
(a) respond to legal process or to HMRC requests; (b) enforce my agreements, terms and policies;
Data Retention
I retain your personal information only for as long as necessary to provide you with my services and as described in my Privacy Policy. However, I may also be required to retain this information to comply with my legal, tax and regulatory obligations. I generally keep your data for the following time period: 7 years.
Your Rights
If you reside in certain territories, including the EU, you have a number of rights in relation to your personal information. While some of these rights apply generally, certain rights apply only in certain limited cases. I describe these rights below:
Access. You may have the right to access and receive a copy of the personal information I hold about you by emailing: lorraine@liverpoolcelebrant.co.uk
Change, restrict, delete, object. You may also have rights to change, restrict, delete, or object to my use of your personal information. The exception being the documentation that HMRC requires me to keep for a minimum of six years following our annual tax return.
Complain. If you reside in the EU and wish to raise a concern about my use of your information (and without prejudice to any other rights you may have), you have the right to do so with your local data protection authority.
How to Contact Me
For purposes of EU data protection law, I, Lorraine Hull, am the data controller of your personal information. If you have any questions or concerns, you may contact me at lorraine@liverpoolcelebrant.co.uk
---
Do you conduct ceremonies for people who identify as LGBTQ+?
---
Absolutely! I'm sorry that you feel that you need to ask, but I understand that not all businesses think and act the same - and I'm sorry about that too.
I love what I get to call a job. I love to create and conduct personal and personalised Wedding, Partnership, Commitment, Naming, and Celebration of Life ceremonies; anyone, and everyone, is welcome to ask me to work with, and for, them. I believe that all people should all be treated kindly, fairly and with respect. We are all unique and we all matter. I advocate kindness, fairness, respect and equality for all through everything that I say and do: Love is Love, Family is Family, Life is Life PS: I also know that just because you identify as LGBTQ+ that doesn't mean that you automatically love rainbows!
---
We want a simple, traditional, Wedding ceremony (like the type registrars do), do you do that?
---
Yes, of course. I will always listen to, be led by, and give you, the ceremony that you want. But, just because you want something simple, or even similar to a registrars ceremony, that doesn't mean that it can't feel personal to you. I will still begin with a blank page and create a ceremony that is unique. Quite often people get in touch with me because they can't get a registrar for the day, or time, that they want.
This is what one of my couples wrote after their wedding: "We're so glad we couldn't get a registrar for the time we wanted because we would never have come across you Lorraine! We had a registry ceremony, with a registrar, earlier in the week but had you for our actual wedding and you were amazing. It was so personal and lovely. We loved how you involved our little girl in passing us our vows in the scrolls. The registrar we had earlier in the week was lovely but it was all very cold, formal and had no personal touch. You made our day so special in our eyes..." Whatever kind of ceremony you want, whether it is simple or elaborate, for hundreds of guests or just you two, it is one of life's milestone moments and it should be conducted by someone that you know and trust. I offer unlimited contact from enquiry to the day itself. I get to know some of my couples really well - because that is what they want. Others, I know less well - because that is what they want. Irrespective, my aim is for all of my couples to feel confident that they have entrusted their ceremony to safe, capable, hands and to always be able to feel, and remember, that that their wedding was very, very, special.
---
Do you only conduct ceremonies in Liverpool?
---
No, although my business name is 'Liverpool Celebrant' and I love living and working in my home city, I am more than happy to conduct ceremonies anywhere in the U.K., or abroad (and I frequently do!)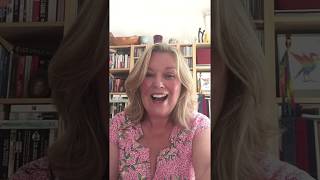 If you think that you would like me to conduct your ceremony, please get in touch; let me know your date (if you know it) and venue (or at least the village/town/city where the ceremony will be held - again, if you know it). We can then have a chat, talk about any plans and ideas that you already have, see if we are a match and we can take it from there...
---
Do you conduct ceremonies for people who live outside the U.K.?
---
Absolutely, around half of my wedding ceremonies are for people who live abroad. Often, but not always, the couple will have a personal connection to the U.K. and want to celebrate with family and/or friends here. Sometimes, the couple just want to elope and have their wedding in the U.K. because they love our history, sporting teams, music or culture. Sometimes, the couple would like me to jump on a plane (train or boat - sometimes all three!) and bring a little bit of Liverpool to where they live - and that's something that I love to do too!
---
We want to celebrate becoming Civil Partners (or celebrate converting our Civil Partnership to marriage), do you do that?
---
Absolutely. I would love to create and conduct a ceremony that reflects your individuality and your togetherness and celebrates the commitment that you are making (or have already made). I will work with you to design and deliver a ceremony that is perfect for you. The ceremony can take any format that you prefer and I am happy to help wth suggestions and ideas, should you want me to.
---
---